Hire highly skilled candidates directly.
Discover candidates with international mobility, office or remote working capacity.
Quickly identify the most qualified candidates
All candidates are vetted & actively looking for work
Feature-rich search capacity and candidate profiles
Quickly identify top technical talent
See candidates' technical experience & specialist skills
Discover information not seen on traditional CVs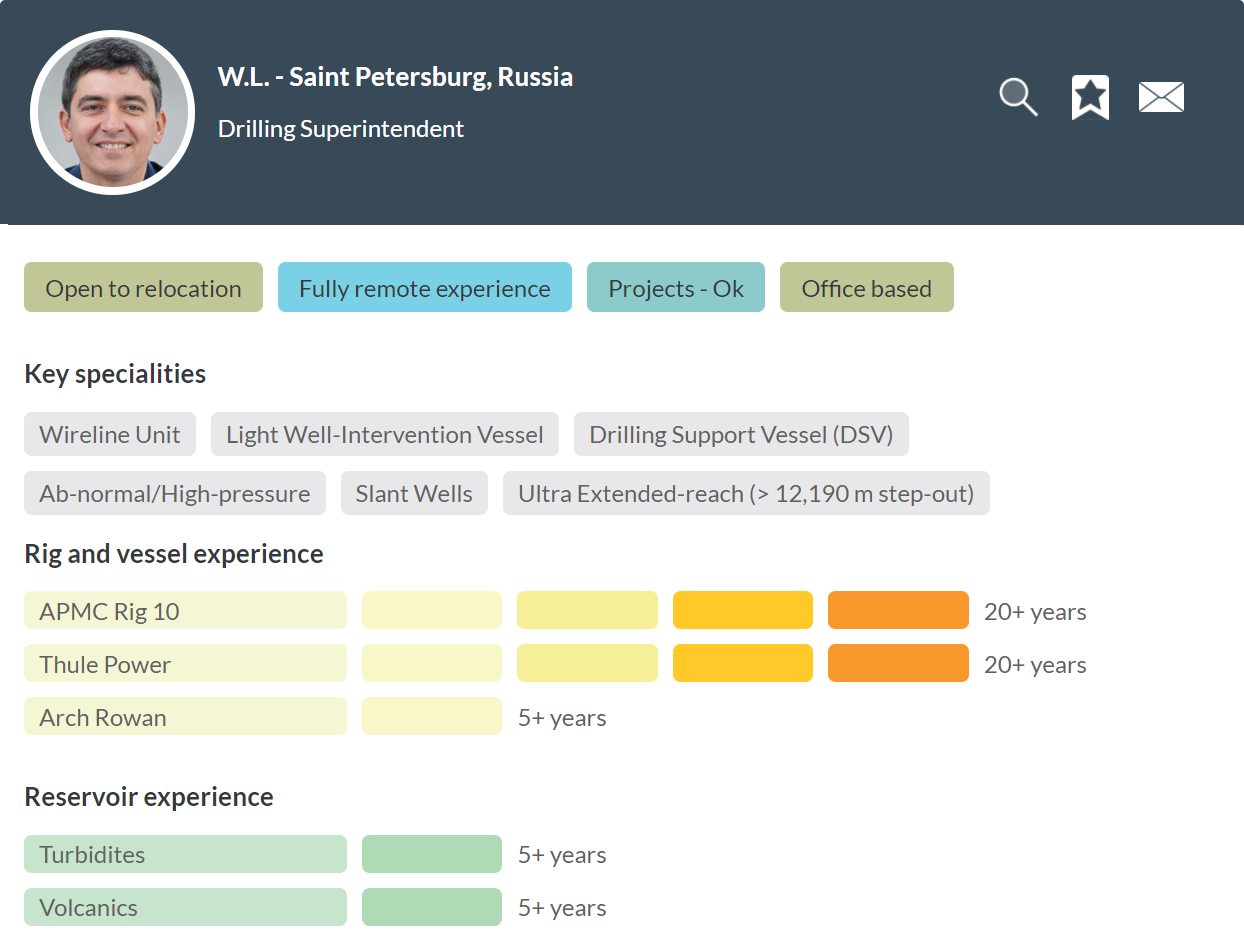 Why partner with us?
Designed for Energy Companies
Our platform is tailor-made for oil and gas companies, drilling contractors, geothermal companies, integrated energy companies, marine contractors, offshore wind contractors and renewable energy companies
Used by professionals
Our clients include hiring managers, in-house recruitment teams and technical team leads
Trusted by candidates
We forge strong relationships with sought-after talent and have new candidates joining regularly. We actively manage candidate relationships to ensure you get the best options.
Maximise your hiring performance
Natrespro offers intuitive candidate matching, with an industry-specific search that allows you to quickly filter and find the perfect candidate.
Our infographics make it easy to identify the best fit, and the platform is built by industry experts.
All our candidates are actively looking for work, and are vetted by us so you can be assured of a faster hiring process.
We offer flexible solutions, with a self-service model and no agency fees.
In addition, we offer bespoke subscriptions tailored to your individual needs. Get in touch to find out more.
Talent matching platform
Our talent matching platform is designed exclusively for companies with in-house talent acquisition teams. We offer access to a fully-vetted and active talent pool, with industry-leading search capabilities and unlimited hiring potential.
Project-based work
For UK customers hiring contractors, we offer a bespoke solution to reduce your exposure to National Insurance Contributions & "off-payroll taxes". We provision the best-fit talent for your business, oversee the whole process and offer simple business-to-business invoicing.